Today's Out Spotlight is an American actor who has earned him 3 nominations for Primetime Emmy Award for Outstanding Supporting Actor in a Comedy Series. He is also a voice from Hollywood supporting the LGBT community. Today's Out Spotlight is Jesse Tyler Ferguson.


Jesse Tyler Ferguson was born October 22, 1975 in Missoula, Montana, and then moved to Albuquerque, New Mexico, where he was raised. At the age of eight he decided to become an actor, and joined the Albuquerque Children's Theater, where he was a member for six years. In high school Ferguson played Albert Peterson in Bye Bye Birdie, and General Bullmoose in Li'l Abner. He also joined his high school speech and debate team, and worked as a dancer/singer at Cliff's Amusement Park.


Ferguson graduated from St. Pius X high school in 1994 and attended The American Musical and Dramatic Academy (AMDA) in New York City. His professional career began in New York where he worked mainly in off-Broadway and Broadway shows, including the Tony Award-winning, The 25th Annual Putnam County Spelling Bee, where he originated the role of Leaf Coneybear.

He received a 2005 Drama League Award nomination for Distinguished Performance in The 25th Annual Putnam County Spelling Bee.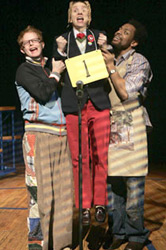 Ferguson's experience with The 25th Annual Putnam County Spelling Bee has been fulfilling, as he says of Leaf, "He is very close to who I am because I helped to create him...I was, as a child a very shy, awkward kid. I was artistic and creative but I didn't have very good social skills. I sometimes think that I still don't!....so all that is definitely part of who Leaf is." However, "I am a horrible speller and am in constant fear that I am going to spell one of the memorized words wrong in the show. I actually spelled 'vulpine' wrong one night. It came a part in the show when we are rapidly moving through spelling words...we just pretended that it didn't happen, and hopefully no one noticed."

He has appeared in the films Untraceable and Ordinary Sinner, on the TV shows The Class, Ugly Betty, Sally Hemings: An American Scandal, Mercury In Retrograve and the Rosie O'Donnell show.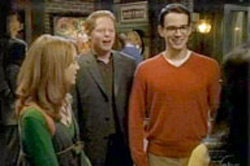 He has also performed in the musicals Cinderella, Peter Pan, The King and I, Annie Get Your Gun, Hello Dolly!, The Boys from Syracuse, Rhythm Club, Summer of '42, On the Town, Newyorkers, Little Fish, twice in Hair, and Embarassments.


Ferguson has also appeared in the plays Corpus Christi, Most Fabulous Story Ever Told, Kean, The SantaLand Diaries, The Complete Works of William Shakespeare (Abridged), Where Do We Live? and Comedy of Errors.

In the summer of 2007, Ferguson starred in the Public Theatre's Shakespeare in the Park production of A Midsummer Night's Dream. He was honored with a 2008 Drama League Award nomination for Distinguished Performance for his performance.


Most know Ferguson from his most current role, where he plays the role of Mitchell Pritchett, the openly gay lawyer on the acclaimed ABC sitcom Modern Family. For his performance, he has received three consecutive Emmy Award nominations for Outstanding Supporting Actor in a Comedy Series (2010, 2011 and 2012).


He has been a involved member of the LGBT community and voice from the Hollywood community for LGBT rights. In March 2012, he was featured in a performance of Dustin Lance Black's play, 8 – a staged reenactment of the federal trial that overturned California's Prop 8 ban on same-sex marriage – as Dr. Ilan Meyer. The production was held at the Wilshire Ebell Theatre and broadcast on YouTube to raise money for the American Foundation for Equal Rights, a non-profit organization funding the plaintiffs' legal team and sponsoring the play.


Ferguson was on the March 6, 2012 episode of Piers Morgan Tonight commenting on Kirk Cameron's remarks in which Cameron called homosexuality unnatural and "detrimental to society", Ferguson said "The only unnatural thing about me being gay is that I had a crush on Kirk Cameron until about 24 hours ago."

This past week, he announced his engagement to lawyer Justin Mikita, his boyfriend of nearly two years. He made the announcement in a video that also marked the launch of a new foundation called TieTheKnot.org, which advocates for bow ties and marriage equality.